Sidhanshu Sivan in Sanjeev Sivan's Ozuki Ozuki Ozuki | photo credit: special arrangement
On January 4, 2023, Kuttanad based Malayalam lyricist and poet Beeyar Prasad alias B Rajendraprasad passed away due to complications from cerebral haemorrhage. Had he been around, he would have been proud of how a short story he shared with Sanjeev Sivan turned into a feature film, which now awaits release.
"In 2021, Prasad briefly narrated the story to me. At that time, his health did not allow him to develop this subject, but knowing my interest in universal subjects, he suggested that I pursue it. I wrote my version and went ahead with the shoot. He saw most parts of the film, but unfortunately, he is no longer with us," Sanjeev told us over the phone from Kochi.
90 minute feature film Ozuki Ozuki Ozuki An important film for Sanjeev, the youngest of the Sivan brothers – after Santhosh and Sangeet – as it marks the acting debut of his 12-year-old son Sidhanshu Sanjeev Sivan, although he read the script long before the decision to cast him was made Was. Created. "When the story was narrated to my mother-in-law, she suggested that we cast Sidhanshu as the young boy, who is crucial to the film. It was his dream to see Siddhanshu as an actor," says Sanjeev.
life by water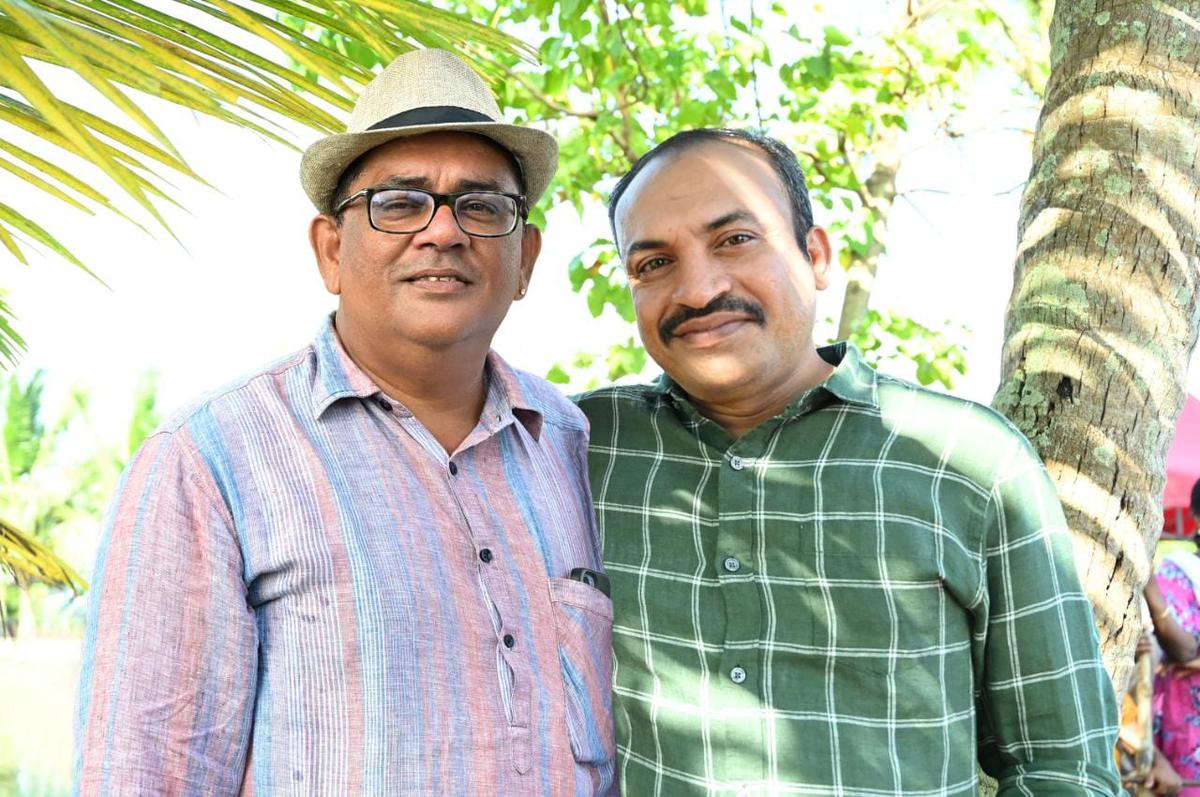 Sanjeev Sivan with Saubin Shahir | photo credit: special arrangement
The story revolves around a young boy Packran, a daily wage laborer in a fishing cooperative, who lives with his mother. He lives near the idyllic backwaters of Kuttanad in Kerala and develops a special bond with the flowing water and dreams of becoming a boatman like his father, who died in a boat capsize. The discovery of a body floating in the water changes Pakran's life.
Sensing the challenge of casting their son in a role where the character appears in every frame of the film, Sanjeev and his wife, actor-filmmaker Deepti Pillai Sivan, sent him for some acting workshops in Mumbai. He worked hard, groomed himself well and presented himself in front of me. That's when I got convinced. He earned this role," says the proud father.
dreams and determination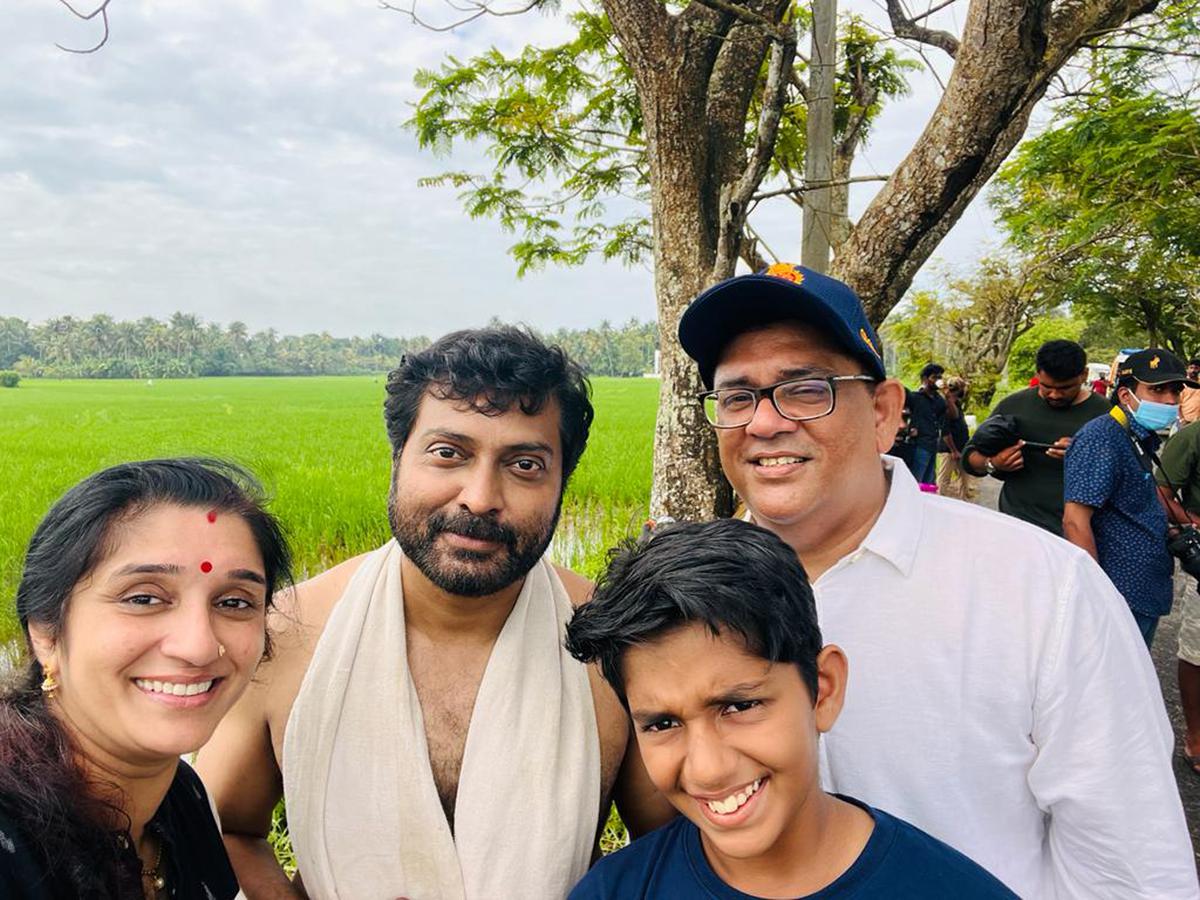 Deepthi Pillai Sivan, producer of the film 'Ozuki, Ozuki, Ozuki' with Tamil actor Narayan, husband Sanjeev Sivan (director of the film) and son Sidhanshu Sivan who played the lead role in the film. , photo credit: special arrangement
Joining the conversation, the 12-year-old described the feeling she felt when she was first told she would be a part of the film: "I've always wanted to act and upset my parents but when it happened it was It was a big surprise and I was very excited," he says, adding that he realized the value of the opportunity and wanted to do his best. "I used to practice my dialogues in front of the mirror. Not wanting to disappoint my father motivated me to give my best.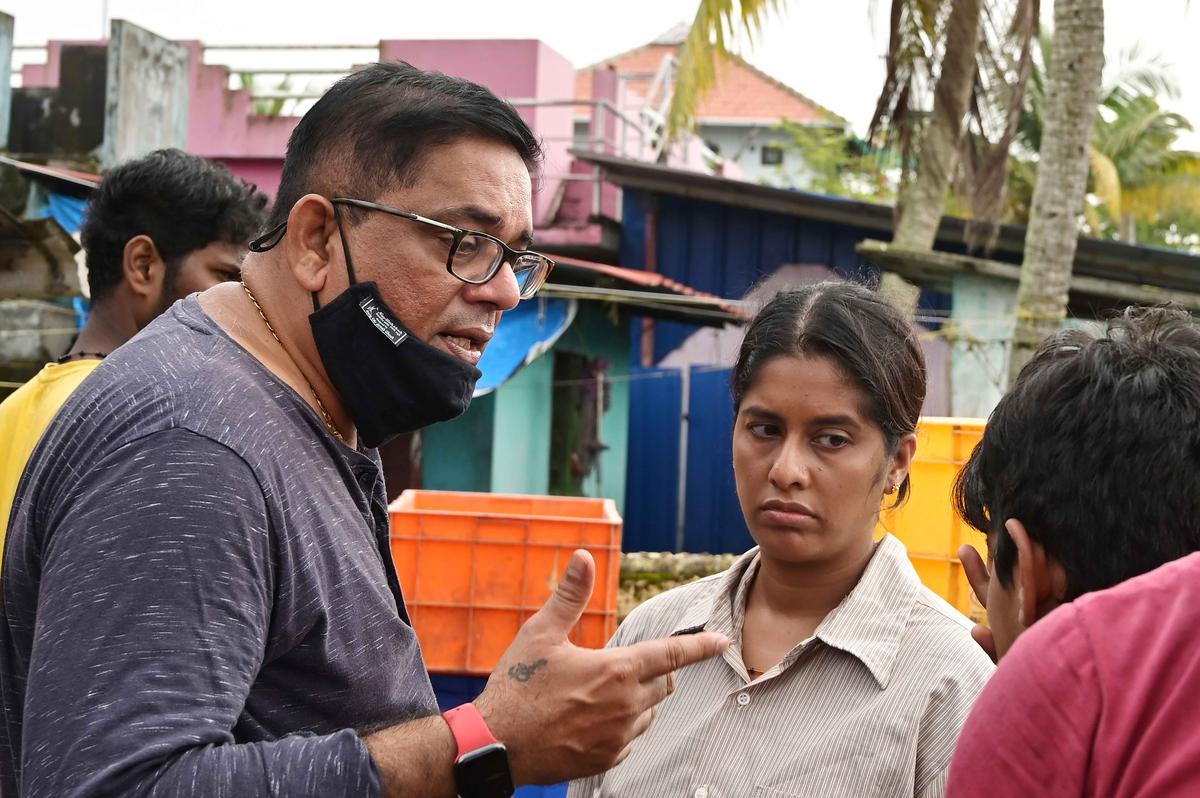 Sanjeev Sivan, Sarita on the sets of 'Ozuki…' | photo credit: special arrangement
The film also stars an impressive crew including Resul Pookutty (sound engineer), Sreekar Prasad (editor), Manoj Pillai (cinematographer) and Tuomas Kantenlinen (music). kumbalangi nightsFame Soubin Shahir, Baiju, Anjana, Devu and Tamil actor Narayan are in its cast. Sanjeev pulled a surprise by casting a neighborhood woman, Sarita, who had no acting experience, in the role of Pakaran's mother. "Sidhanshu is very friendly with Sarita and when I noticed their bonding I felt it would work well for the film. Needless to say, their chemistry was an asset to the film," says Sanjeev.
Transform
Describing the first day's shoot with his son, Sanjeev says that he was not happy with the result and found his son very nervous. "I spoke up and explained that Amma had invested money in the film and we could not waste time and she had to perform without being overwhelmed in the presence of big actors. On the second day I saw a change in him. Every shot was OK in the first take and the film, which was meant to be shot for 28 days, was completed in 15 days," says Sanjeev.
"It was like taking a board exam," laughs Sidhanshu. "Trying to understand the character and see the world from his point of view helped me perform better and stay confident throughout," says Sidhanshu , who is the third generation Sivan and the first to appear in front of the camera. "My mother is a big inspiration and I like Mammootty uncle… in fact I like different actors in different films," he says. Siddhanshu has now set his goal of becoming an actor.
In 2004, Sanjeev stepped down from his admin role at his family studio to direct defamiliarization with Mammootty. However, its success did not draw him on the path of commercial cinema. A graduate in filmmaking from New York University, he made 30 short films and 85 documentaries, including some for National Geographic Channel, Discovery Channel and Al Jazeera, which won him international awards. his documentaries achtung baby On the Indo-Aryan tribes in the Himalayas, underground hell on fire accidents inside mines and after lifeA poignant film on a parents' fight for possession of their dead son's semen were some of the notable documentaries he made.
Together Ozuki..With the trailer out, the team is awaiting notification from the Film Festival of Kerala to enter their competition, apart from a few international film festivals.