Colin O'Brien and Taylor Schilling in a scene from 'Dear Edward' | photo credit: Apple TV+
Working on the upcoming series for Apple TV+, dear edward, Its lead actors attempt to tell a story on how to "fulfill life on life's terms", as Taylor Schilling puts it. Created by Jason Katims, the show is adapted from the novel of the same name and follows the aftermath of a plane crash. The script follows the life of Edward Adler, a 12-year-old boy who is the lone survivor of the crash, and weaves his story into the lives of other families who lost loved ones in the tragedy.
Colin O'Brien, who plays Edward on the show, says that although the book and show share some themes and the general message remains the same, Jason Katims' work focuses more on hope and the relationship aspect of it and "we How to find new ways of living your life through other people and contacts."
He further added, "One thing I've learned from working on this story and project is that life isn't always what you expect, different things happen and you have to adjust."
Edward's parents do not survive the crash and he ends up in the care of his aunt, Lacey, played by Taylor Schilling. Grieving over her sister's death, Lacey is also suddenly forced to take on the role of motherhood. "Really, the notion of bravely letting life be what it is, is what I love about her. She's facing herself very bravely," Schilling says of her character.
"A very human, raw story that Jason is telling," Schilling, who is collaborating with the showrunner for the first time, describes the show. "It's part of the human condition to not really know where life is going to take us, and the more we try to lay out the best plans, things turn out. Love, connectedness, and joy in the present moment and life." The bravery to get, just like that. That's what I think a lot of us are navigating right now.
Colin describes it in a similar way, as a show that reinforces the idea that "there will be different things that will happen and you have to adjust."
"His scripts are very layered and detailed. He really paves the way for you as an actor, he's a really down to earth person, and he's easy to talk to," says Colin about his experience working with Katims for the first time.
'Hope it helps people not feel alone'
While Taylor and Collin had their novel counterparts to draw inspiration from, Connie Britton's role began with a phone call with Katims. have worked with them before Friday night LightsBritton said that Katims came to him with the role of Dee Dee. Not part of the novel's original cast, Dee Dee's characterization is something Britton and Katims worked on together. "We'll get on the phone and talk it through and find out who she is and who we want her to be," Britton says.
"I really wanted to feel levity and lightness with this character, even though he is going through terrible grief. She lives this happy-go-lucky life until it's not… We wanted to make sure it felt rock-solid.
Bringing the character to life, Britton says her biggest challenge was layering the many emotions. "I really wanted to try to catch up with that character because she loses so much physically and emotionally
,,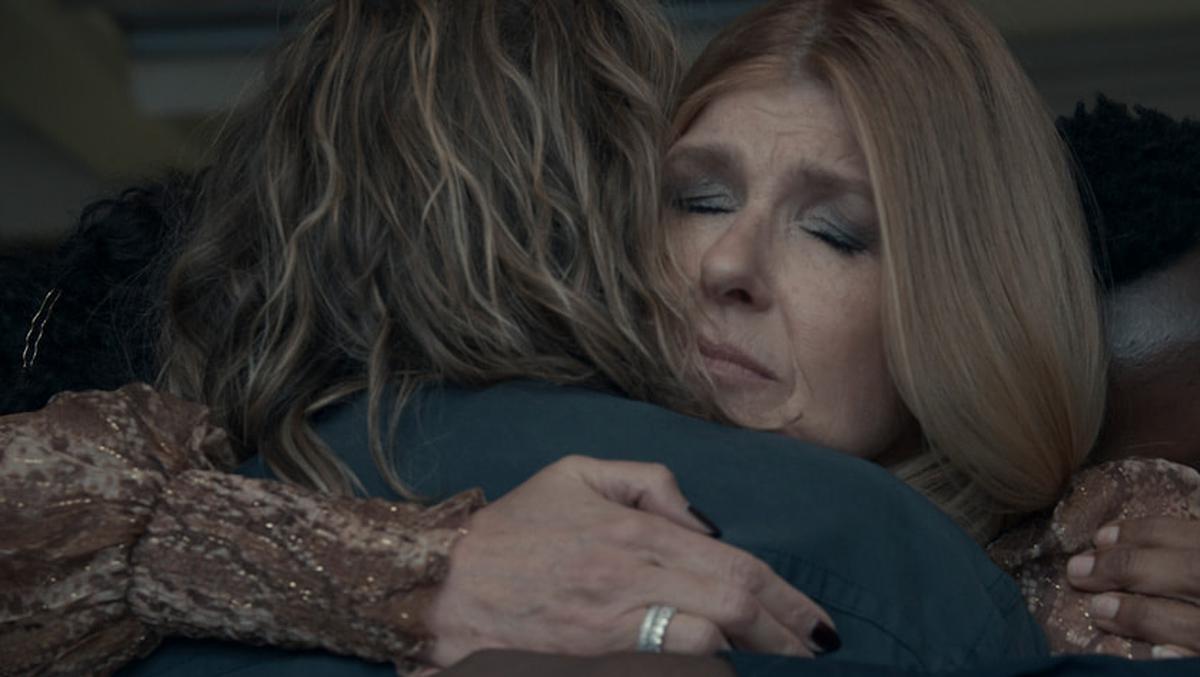 Connie Britton in a scene from 'Dear Edward' | photo credit: Apple TV+
While being closely linked to a plane crash may not resonate widely, the cast says that experiencing great loss and moving beyond it is the focus of the show. "What we can all connect with is the experience of a great loss, and it's inevitable. We have to overcome it in our own unique ways. Telling stories like this in an honest way allows the audience to see themselves in that journey." allows them to recognize and know that they are not alone, that they can find great strength in their experience of grief," says Britton.
"My hope is that the quality of the way this story is told reminds people that they are not alone. I think what I see in all of these characters is a strength even in their enormous loss."